Provably Fair: A New Standard Set by Crypto Casinos
What is provably fair? Simply put, the provably fair algorithm generates a code that allows for new levels of online randomizing in casino games. Using blockchain technology initiates new degrees of transparency and impartiality in random actions like shuffling cards or flipping coins. 
What sets provably fair apart from the standard black box algorithms used in the gaming industry? With provably fair, players of a specific game can all confirm the randomizing process. Provably fair sends an encrypted key showing the game results to each player after each game. A second key sent provides verification of the accuracy of games after a specific session.
In short, the advent of crypto casinos has made provably fair possible. It is the algorithm that analyses casino games to ensure that they are not rigged or faulty. (Source: https://www.basketballinsiders.com/online-casinos/bitcoin/)
Bitcoin (Image: pixabay.com)
Provably Fair vs. Traditional Online Casinos
There are several differences between online casinos using the provably fair algorithm and those traditional black box ones. Some of these are the following:
Trust and transparency
Most crypto casinos use provably fair games to enhance transparency and build trust between players and the casino. This is possible by using cryptographic algorithms. Players can verify the game's fairness by independently authenticating a game's outcome. 
You can double-check the validity of every deal, roll, and spin. A traditional online casino promotes its games as fair, but players can only assume this is the case. With a crypto casino using provably fair algorithms, there's a way of confirming a game's fairness. 
As the technology becomes more popular, established, and trusted, chances are that more players will make use of it, leading to a broader user base.  
Payment methods
Crypto casinos use digital currencies whereas most traditional online casinos limit their payment methods to established currencies like USD or EUR. These use recognized payment options, including cards, bank transfers, and e-wallets.
In crypto casinos, Ethereum, Bitcoin, and other cryptocurrencies are acceptable payment methods. Their blockchain technology provides enhanced convenience and security.
Regulations
Traditional online casinos abide by established standards and industry licensing requirements.  These are in place to encourage responsible gaming. With crypto casinos, regulations are lacking as the industry is still evolving.
Although this means faster payouts for players, it means unscrupulous casino operators can take advantage. This is why provably fair is beneficial as a control mechanism in these cases.
Convenience
Player convenience is a vital ingredient in the recipe of online gambling institutions. Casinos offering players convenient and flexible online experiences benefit as players visit more often. Traditional online casinos offer a decent standard for convenience, but crypto casinos take this to a new level. 
Traditional online gambling provides easy access to games and features. There are also several easy methods for funding your account. Crypto casinos offer access to even faster, secure transactions. These incorporate levels of freedom not experienced in the industry before. Adding provably fair to the mix means enjoying a convenient experience cemented by greater trust.
Games
No matter the type of online casino, players have access to a vast array of games. Both provably fair and black box casinos list traditional casino games and new, innovative slot games in their game libraries.
Certain games may only be available on either crypto or traditional casinos. Provably fair games using blockchain technologies will only be accessible at casinos making use of this algorithm. The benefit of playing these games lies in their cryptographic fairness. Neither the casino nor the player can exploit their outcomes.
Anonymity
Traditional black box casinos focus on player confidentiality. They enforce strict measures to protect their players' financial and personal information. The confidentiality guarantees are still not as high as provably fair casinos can offer.
Cryptocurrency transactions need no personal information, with anonymous transactions the accepted norm. In this way, crypto casinos guarantee a level of anonymity that no traditional online casino is able to.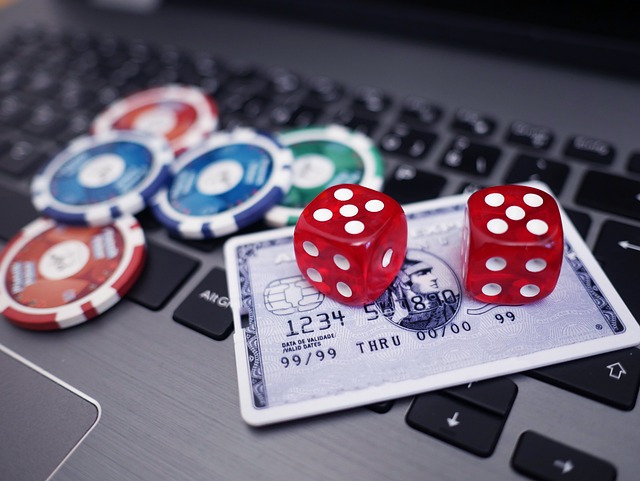 Online casino (Image: pixabay.com)
Potential Risks of Provably Fair
Although provably fair is a groundbreaking technology in the online casino industry, risks do still exist.
Legal contracts
Provably fair contracts in gambling are smart contracts that institute all hands, keeping them in a blockchain hash. All players can access this hash and verify them after a session. A hash in a blockchain is a form of unique digital fingerprint that identifies a block and its content. As each block carries information from the prior block, it secures the chain. 
As such, any player can examine the activity and identify how the casinos pay winners out. This public scrutiny also helps to identify any bugs in the system. Because you cannot change contracts saved in the blockchain, fixing these bugs isn't possible, however. As they are in the public domain, identifying bugs means there is a chance of exploitation from those with sinister motives.
This type of problem raises questions surrounding the legality of smart contracts. Certain states have already accepted "smart contract legislation," into law. This, however, doesn't turn a blockchain smart contract into a binding legal contract automatically. Most smart contracts are actually only terms within standard legal agreements and aren't binding. 
Unregulated status
Crypto casinos that incorporate provably fair are still unregulated. The decentralized nature of cryptocurrencies means authorities can't keep tabs on activities or transactions through crypto casino platforms. Traditional casinos are highly regulated and protected, but crypto casinos aren't. This means they are open to money laundering, theft, and other unethical activities. 
Billions of dollars flow through online casinos each year. With the lack of regulation, it is difficult to learn how much revenue crypto casinos specifically generate. Players using cryptocurrency should be aware of this and be cautious when taking part in any form of unregulated gambling. 
Final Thoughts
Online casinos using cryptocurrencies are here to stay. Many benefits are clear. The provably fair algorithm allows for more transparency and trust between players and operators. Crypto casinos will become more established and will iron out some of the grey areas. In so doing, they will become popular as acceptable platforms for more players.
In time, traditional online casinos may even adopt provably fair as a standard algorithm on their platforms. Admittedly, some problems do exist in crypto casinos using blockchain technology. For this reason, players should weigh up the pros and cons before adopting the gambling experience that suits them best.
Provably Fair: A New Standard Set by Crypto Casinos was first seen on Casino Life Magazine