Chris Smiley shines in the rain
It was apparent after practice that Chris was suffering with a performance deficit, chasing a handling problem with his Civic FL5, and also struggling with the difference in straight-line speed compared to the rest of the field. Chris salvaged a sixth-place finish before race-ending contact in a drama-filled second race.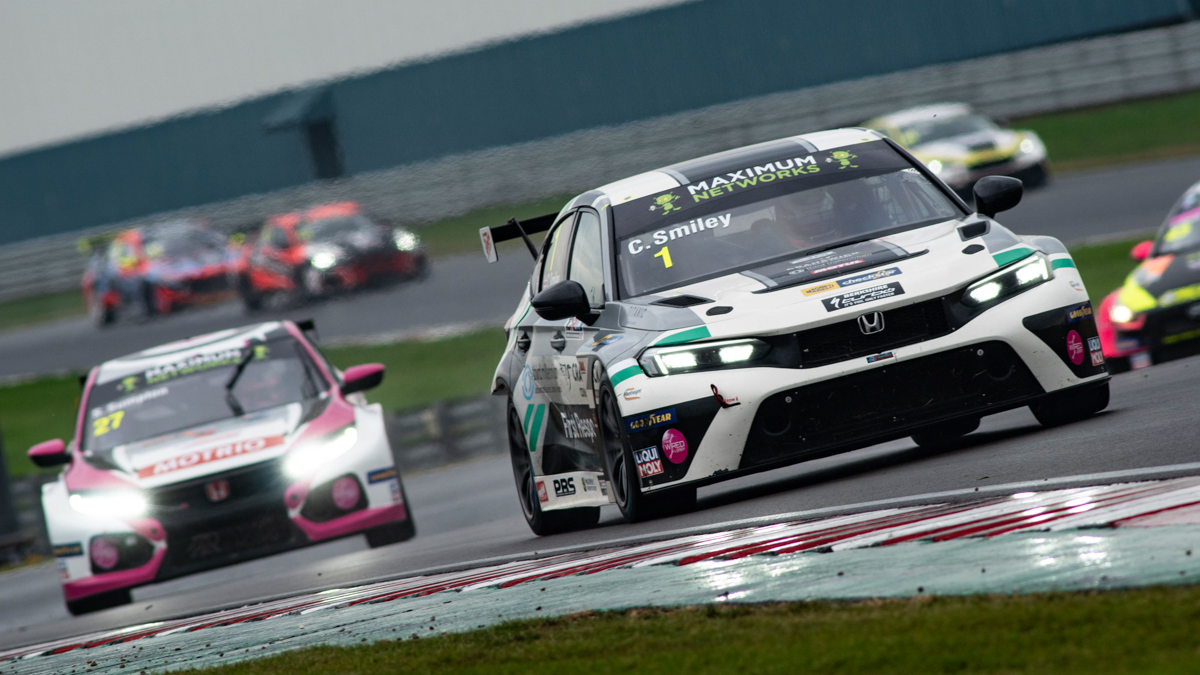 Following challenges with Chris Smiley's Civic FL5 TCR in recent rounds, in a two-day test ahead of the weekend, Restart
Racing
was joined by TCR World Tour driver Néstor Girolami, who split running with Chris and Scott during the test with all drivers setting comparable lap times, affirming that there's no technical issue with car.
In qualifying, Chris qualified in seventh place, it was a good qualifying result, but more was certainly hoped for especially from the newer Civic after the test.
On race day, in the first race Chris made a great start and manoeuvred his way up to fourth in the early running, but his race began to fall away from there, as he had no pace to fight back against the charging out of position cars who were just able to power past Chris' Civic.
The rain arrived just ahead of Race 2, with the whole field opting to start on the Goodyear wet tyre.
Chris was able to manage the tyres and hold on to finish second in the race, the performance deficit of his car not so apparent in the trickier conditions.
Unfortunately, in post-race scrutineering, both the initial race winner and Chris' cars were both found to be a fraction under the minimum ride height, so Chris was excluded from the final results.
Notwithstanding this, the team is concerned about the lack of performance particularly seen in Race 1 of the Civic FL5, especially with the car's handling validated by Girolami, a race winner two weeks' ago with the car – and so are looking for answers to as to why their car clearly is lacking straight-line speed against the rest of the field.
The team and Chris are at a loss to understand the troubles they're experiencing this year, and have just one more race left in which to find the answers.
The championship finale takes place at the Indy layout at Brands Hatch on October 21-22.
Chris Smiley, #1 Restart Racing Honda Civic Type R FL5 TCR
"This was a difficult weekend, even though we appeared to have made some steps forward. To be fighting to even hold on to seventh isn't where we should be, and it was plain to see that our car had no pace to get the results we should be getting in the dry conditions.
"Our pace in Race 2 was better because of the rain, so it was good to have had a bit of luck, but cars carrying 20-40kg more weight than us in compensation just drove away in both races, and it just doesn't make sense.
"The team's working tirelessly and it's upsetting that we're not able to get the results that we deserve, and the ones we know this car should be capable of."
"I did my best to pick up a good result in Race 1 considering, with the focus on the Race 2, and while I was making a move to get up to second place at the start I was caught up in someone else's accident, and unfortunately that was it.
"We just have to put this one behind us and look ahead to Donington Park and Brands Hatch."
Chris Smiley shines in the rain was first seen on Chris Smiley official website.