Stars and Stripes Makeover for Oracle Red Bull Racing in Texas
For the second time this season Oracle Red Bull Racing have turned the RB19 into a canvas for the Team's fans. Artwork from a member of 'The Paddock' – Oracle Red Bull Racing's free loyalty programme – will decorate the 2023 Constructors' Championship-winning car at the Circuit of the Americas this weekend. Here is all you need to know: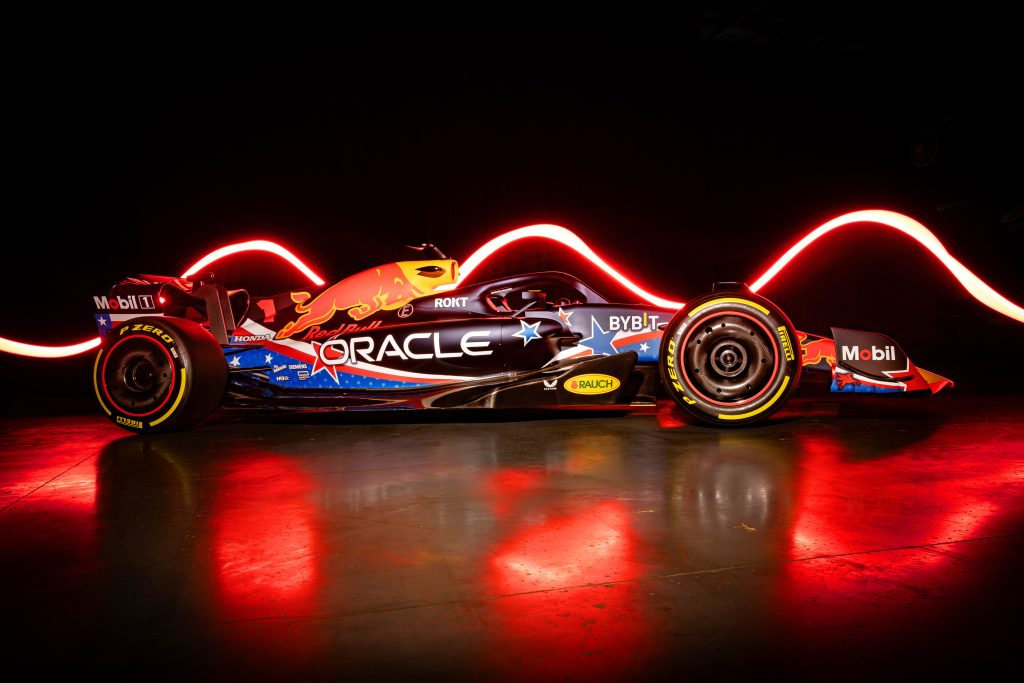 Part of the team's 'Make Your Mark' campaign, the competition sees members challenged to design a bespoke livery for each of the USA Grands Prix, as Max Verstappen and Sergio 'Checo' Pérez race stateside three times in one season for the first time.
Tens of thousands of new fans signed up to programme to take part in the campaign. Over 2,000 unique liveries were submitted, which were individually reviewed by Oracle Red Bull Racing and the top designs were put to a vote on 'The Paddock', where almost 25,000 fans had their say.
 In the end, Franco Cavallone took the chequered flag in first place, with his design taking inspiration from the Lone Star flag of Texas.
Franco's winning design features bold, sweeping lines of red, white, and blue along the chassis and front and rear wings of the RB19 and ornate, Texan stars. The 39-year-old graphic designer from Capitán Bermúdez, Argentina, was captivated by 'Make Your Mark Miami', while attending the race in May, and was inspired by fellow Argentinian Martina Andriano's winning design. The RB19 roared to a one-two finish in those Miami colours, with Max and Checo grabbing a double podium.
Franco has been flown to Austin this week to see his livery revealed in person, at an exclusive launch event. He will then head trackside to experience a weekend with the World Champions and see the RB19 in real life, decorated with his design.
Team Principal and CEO, Christian Horner said: "It's really exciting to see this unique, fan-led competition come to life and coincide with the growth of Formula One and our supporters in the US, and to invite our global fanbase into the team and our garage to make their mark and design the very livery we race with. I think Franco has done an excellent job and the car looks incredible showcasing the Texan colours and culture. It's not every day we release a one-off livery, so it's even more special that it's designed by our fans. Our hunger for winning continues for the remainder of the season, so hopefully this livery will be as winning as Martina's in Miami, which saw Max and Checo finish on the top two steps of the podium. We'll be sure to show Franco some strong southern hospitality if so! I'm fascinated to see what our fans come up with for the final US race in Las Vegas."
The winner of Make Your Mark Austin, Franco Cavallone said: "The moment I was told I'd won it was a rollercoaster of emotions, I was so happy. I remember when I first found out about Make Your Mark, I was watching the second practice session at the Miami GP – it was the first time I'd been to a race – and I found out the Oracle Red Bull Racing livery was designed by a fan from Argentina, like me. When I got back to my hotel, I researched the competition and signed up to The Paddock and started designing my livery for Austin there and then. I thought about Austin and the Circuit of the Americas and took inspiration from the stripes and stars, and sweeping red, white, and blue lines around the corners of the track. I even spoke to Martina who won the Miami competition for advice. I'm a freelance graphic designer and this is easily the most exciting thing I've ever designed! It's like a dream that this is happening to me, seeing my design on the car will be the best day ever, I can't wait to see it on track."
Stars and Stripes Makeover for Oracle Red Bull Racing in Texas was first seen on Sports Betting Operator