Formula One threatens to block Las Vegas clubs' race views
Las Vegas hotspots are waving the red flag at Formula One — claiming its executives are threatening to block views of the posh car race unless they fork over millions of dollars in fees, The Post has learned.
The red-hot racing league has demanded that venues along the 3.8-mile circuit — slated to run through the heart of Sin City during November's Las Vegas Grand Prix — pay $1,500 per head for licensing rights, according to a letter to the venues obtained by The Post.
For a restaurant or club with 1,500 seats, the tab would soar to a whopping $2.25 million — regardless of how many guests can catch views from their roof decks, terraces and dining areas.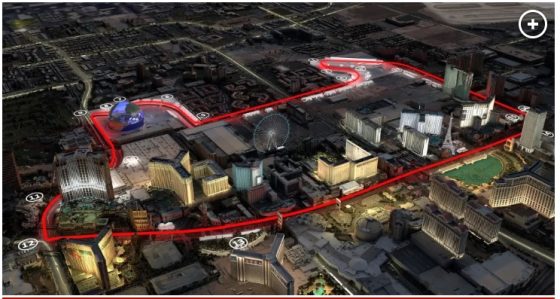 Image: F1 Las Vegas Website 
If clubs and restaurants refuse to pony up, sales reps for F1 — owned by billionaire John Malone's Liberty Media — have warned that obstructions like barricades, stands and light stanchions could end up ruining the race for their customers, according to a source.
"They are literally shaking people down saying they will obstruct views unless they pay them," one hacked-off casino owner on The Strip told The Post. "It seems insane that they are asking money for a public event that is taking place in the streets."
Sources also claim that salespeople working for Renee Wilm, the Las Vegas Grand Prix CEO and Liberty Media's chief legal officer, have even threatened that lights will be shined toward the viewing areas of unlicensed venues, blinding guests trying to get a peek at the night time race.
"There is a real chance of obstructing views with stands and barricades," one source close to the situation said. "I know the hotels are upset about it and they are trying to figure out if they'll play along."
The letter sent to venues like Planet Hollywood and Black Tap Craft Burgers and Beer — which are along the race route — comes with a subtle threat worthy of Vegas pioneer and infamous mobster Bugsy Siegel, sources said.
"Las Vegas Grand Prix will use reasonable efforts to maintain sightedness from licensee's venue to the track/race," according to the overview of the F1 proposal reviewed by The Post. "The license fee will equal the maximum occupancy of licensee's venue (per fire code) multiplied by $1,500."
The big worry is that Vegas venues will be forced to pass the fees along to their high-rolling customers in the form of stratospheric cover charges that could soar past $2,000 a head, according to a Las Vegas executive who spoke on the condition of anonymity.
While Formula One may charge similar fees at other street course locales like Monaco, Las Vegas venues want high rollers to come and gamble several times a year. If customers spend too much money on this trip, they may not come back again soon, the executive insisted.
The Vegas executive added he has direct knowledge of a venue that in recent days told Formula One it would not pay for licensing. In response, F1 is pressuring Las Vegas Grand Prix official sponsors to get that venue to cough up the cash, the source said.
"There is a certain line they are crossing [by] telling someone who has spent billions on their property that you are shutting the Strip down for construction and then asking them to pay for seats," the source close to the situation said.
"They are trying to limit people's ability to capitalize on the race."
Hotels like the Venetian and Wynn are already paying roughly between $2 million and $10 million each to be official race sponsors and are not being asked to pay more for having rooms that face the course.
But F1 is still asking some of their restaurants to pay the licensing fees, sources said.
What Formula One is doing is probably not illegal, the source said, although it looks opportunistic.
"They own the right to the race so it would be hard for a venue to prove damages," the source said.
The three days of events, culminating with Saturday night's Las Vegas Grand Prix, will run from Nov. 16-18. It is estimated that as many 300,000 F1 fans will attend.
Ticket packages for the public have not sold out, according to the Formula One website.
The average ticket price for the three-day package is already $6,651, almost 50 percent more expensive as the $4,600 price for the Miami Grand Prix, according to a study by King Casino Bonus.
"$8,000 per person for Heineken House?" an F1 fan said on their social media account referring to the three-level structure that will be next to the track and have DJs and all-inclusive food and beverage.
"As a true F1 fan, very disappointing that nothing at the Las Vegas Grand Prix is affordable — but there are tickets available. Guess I will stick with general admission passes for Austin and Miami."
Run-of-the-mill hotel rooms for the weekend are charging $1,000 a night. Add the $6,651 average race tickets for three days — or the jacked-up cover to go to a restaurant with good views — and flights and it could easily become a $15,000 weekend for a couple before gambling.
Beer Park is officially partnered with Formula One and is charging $5,500 for full, three-day access to the venue's indoor space including food and beverages, with over 75 HDTVs as well as the 9,000-square-foot outdoor terrace with trackside views.
Formula One is paying Madison Square Gardens' Sphere arena nearly $10 million for its empty parking lot to put up its own stands.
Previous F1 races in the US, like the Miami Grand Prix, have been held on tracks that are contained within one venue.
But the Ferraris and Red Bulls racing down the Las Vegas Blvd. (the Strip) straightaway at speeds topping 200 mph will zoom past The Mirage, Caesars Palace, Drai's Beachclub, the Bellagio and Cosmopolitan on Las Vegas Boulevard (the Strip).
The 17 sharp turns will take drivers past Planet Hollywood on Harmon Ave. and around the newly built Las Vegas Sphere and Wynn Resorts on Sands Avenue.
John Malone's Liberty has made a fortune from Formula One, valuing the racing organization at $8.8 billion when it took control in 2016.
Sportico said last month it is now worth $17.1 billion thanks partly to the Netflix "Drive to Survive" series.
A Liberty spokeswoman did not return calls, and nor did Renee Wilm.
Preview Image: F1 Las Vegas Website
Formula One threatens to block Las Vegas clubs' race views was first seen on Sports Betting Operator