SKY VEGAS LIVE EXPERIENTIAL POP-UP LAUNCHED IN THE CENTRE OF LONDON
Sky Vegas, the UK's favourite online casino, has held a pop-up casino event in London, bringing Sky Vegas Live offline and into life in the real world. 
To drive excitement surrounding the 'Live' offering, the casino brand launched an exclusive immersive experience on Thursday 18th August, bringing customers directly into the world of Sky Vegas Live. 
 Held at The Steel Yard, London, the pop-up re-built the Riga set as seen in the iconic Sky Vegas Live TV ad, giving people the chance to play on many Vegas favourites, including Blackjack, Roulette and Spin a Win. 
With 100 Sky Vegas Live customers in attendance, the free event saw a total of £5,000 paid out to customers. Prizes on offer also included vouchers for holiday getaways, Just Eat, Ticketmaster and the latest technology including Airpods and an Apple watch.  
The pop-up, situated in country's capital for one-night-only, also gave attendees the chance to visit a free selfie booth, with food and drink also on offer.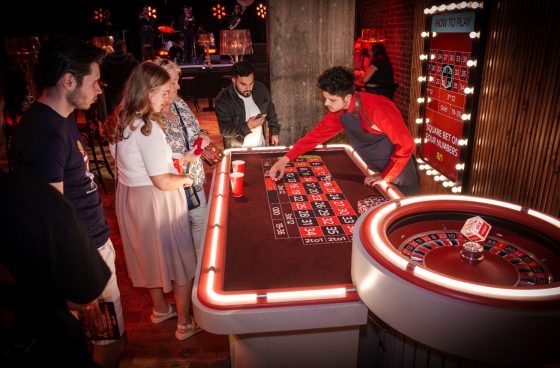 As well as providing customers with a unique insight into Sky Vegas Live, members of the online casino's team were also present at the event to conduct on-the-ground consumer research to help gauge customer's current brand perceptions.  
Dan Sales for Sky Vegas Live, said: "As a brand that prides itself on delivering the thrills of a real casino online, without the fuss, we were super excited to take our offering on the road and deliver a truly unforgettable experience to our customers. 
"Equipped with everyone's favourite machines and tables, the night was massive success with 100 of our Vegas Live customers in attendance." 
SKY VEGAS LIVE EXPERIENTIAL POP-UP LAUNCHED IN THE CENTRE OF LONDON was first seen on Sports Betting Operator