Formula One racing is so far behind the eight ball with Las Vegans
Whoever wins the Las Vegas Grand Prix, to be held in mid-November, the loser is already obvious: the average citizen of Las Vegas.
Even if the promised economic benefits materialize—which looks doubtful—Formula One racing is so far behind the eight ball with Las Vegans it will never come out ahead. Instead, it is careening full speed toward the biggest public relations debacle since New Year's Eve of 1999.
For those with short memories, short-term greed and Y2K technology fears made that New Year's weekend a signal failure. Except for a spray of confetti from Paris-Las Vegas' Eiffel Tower, there was nothing even faintly resembling fireworks on the Las Vegas Strip … unless you count the utility-pole climber who electrocuted himself.
Instead, guests were herded inside casinos, as the latter tried to desperately make as much money as possible, should the world's microchips shut down as midnight rolled over into the year 2000. Hotel rates, which had been jacked up astronomically, had to be ratcheted way back down when demand failed to match supply. The whole affair left Las Vegas with a bad aftertaste and has never been remotely emulated—until now.
Keep out
"F1 has done a disastrous job of managing the optics for this event," says Vital Vegas author Scott Roeben, who has been keeping a close eye on the Grand Prix. "It's pretty clear nobody understood the impact the race would have. Basically they sold the Strip to be used as a backdrop without much consideration for the unintended consequences."
The ostensible host city finds itself very much on the outside, looking in. Most recently, workers were seen glazing and erecting canopies over Strip pedestrian bridges, to prevent lookie-lous from seeing moments of the race for free. Initially, locals were only to be offered standing-room places, at hundreds of dollars a pop. That has changed, incrementally, one of a number of anecdotal signs that the much-ballyhooed event isn't drawing as well as anticipated.
A 70 percent plunge in room rates for the Grand Prix at Harrah's Las Vegas, discovered by Roeben, was initially dismissed as an outlying economic indicator by race boosters. However, one of those cheering sections, the Las Vegas Review-Journal, recently admitted it was seeing precipitous room-rate declines at other area resorts on race weekend. Wynn Resorts was reported by Las Vegas Advisor to be offering free room nights for race weekend—along with $4,000 race seats.
This panicky repricing hardly befits an event that Wall Street boffins predicted would outdraw Super Bowl 2024, to be held at Vegas' Allegiant Stadium. Clark County leaders were sold on Formula One (including eight-figure infrastructure outlays) by promises of $1.3 billion in economic impact. That doesn't seem to be materializing.

Fuzzy math
Even the $1.3 billion figure is suspect on its face. In Austin, Texas, Formula One's impact it measured at $434 million a year. In Miami, the figure is more like $350 million. The billion-dollar difference between the impact on the two sun-and-fun cities has gone unexplained.
When Las Vegas Advisor queried Applied Analysis, originator of the $1.3 billion projection, it kicked the can to F1 headquarters. No elucidation was received from F1, nor from the similarly tight-lipped Las Vegas Convention & Visitors Authority. For all intents and purposes, the $1.3 billion number was arrived at out of a clear blue sky.
Interestingly, Applied Analysis guru Jeremy Aguero was a veritable Chatty Cathy when Las Vegas' News 3-TV came calling. "You're talking about 150,000 people of some of the most affluent travelers anywhere in the world descending on Las Vegas for what I think will be the single largest event on Planet Earth in 2023," he said. By comparison, the most recent Super Bowl, in Glendale, Arizona, was attended by 72,200.
Wall Street analysts have gloated in print that, even if projections don't pencil out, the supply-demand dynamics look very good for Las Vegas hotels. Or do they? MGM Resorts International, which was supposedly sitting in the catbird seat, released an October 17 offer of two race tickets, three hotel room nights, free food and drink, and (only) $40 of free play—with prime seating in one of the grandstands. But it was also trying to shop Bellagio grandstand tickets for $11,247 a seat.
Resorts World Las Vegas (which isn't along the race course) is nonetheless touting The 888 Experience. Your $888,000 buys you "first-class flights, a three-night stay in an exclusive palace suite, four additional deluxe rooms, a private butler, custom tailoring service and an invite to a VIP afterparty at Zouk Nightclub," plus a $20,000 casino credit. (Take note, MGM)
There'a $1 million deal at Wynn Las Vegas, while Caesars Entertainment recently rolled out a $5 million Emperor Package "and will place guests in the Nobu Sky Villa at Caesars Palace for five nights, with a 24-hour butler, a driver service, a spa service for six guests, a private dining experience for 12 … and an invite for the package holder and plus one to also attend Weekends with Adele at the Caesars Palace Colosseum," according to GamingAmerica.com.
Bigger than the Super Bowl?
In a rare breakout of the Applied Analysis figures, F1 CEO Renée Wilm posited visitor spending at $966 million, plus infrastructural outlays of $316 million. She also tempered the attendance figures to closer to 100,000. By contrast, Super Bowl 2024 is expected to bring a mere $600 million into Las Vegas.
Whatever inconveniences accompany the Super Bowl, residents of Sin City find comfort from the fact that it is a one-time event. No such luck with the Grand Prix, which returns in 2025 and at least through 2032. For months politicians and media members have heard complaints, bordering on anguish, about the disruption occasioned by the race. Traffic across the Strip has been interdicted and, on a good day, delayed as cars are rerouted around areas being retooled into a course. "The repaving was slow and poorly executed," laments Roeben, "and caused headaches for months," dating back to last March.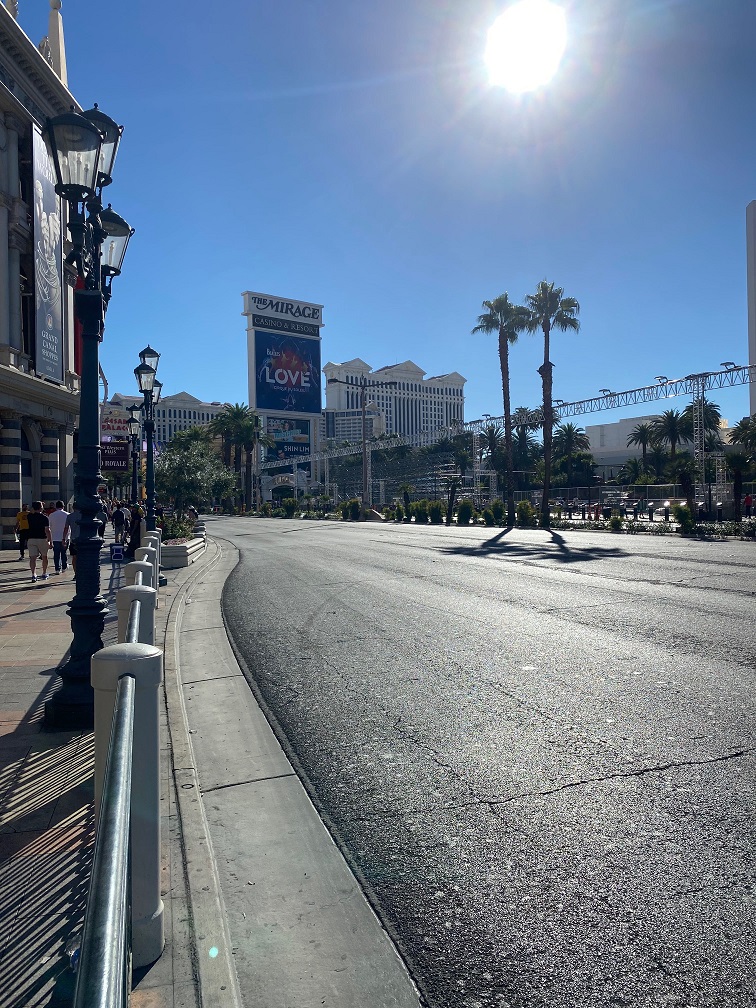 Las Vegans find themselves having to budget hours for commutes that used to take minutes and sacrificing family time to sit in traffic. Not counting tipped employees on the Strip, who may profit from visitor largesse, no John Q. Public appears to stand to benefit directly from the Grand Prix. If there is a trickle-down element to its economic impact, it has not been articulated. Indeed, the overweening aroma of noblesse oblige surrounding the event has made it persona non grata with locals.
Even those who stood to benefit from the race were displaying reservations. Reports filtered out that Caesars Entertainment was holding prize drawings for employees who worked Formula One Weekend, lest they stay home. "The actual race is going to be an absolute shitshow," says Roeben. "Typical visitors have been pushed out for some imagined flood of wealthy visitors. Room rates have tanked due to lack of interest–all the hotels overestimated demand … The Strip will be a private event, and getting to work is going to be an absolute nightmare for Strip employees. They're expecting to put 10,000 people on buses. Insanity." Especially to those familiar with Las Vegas' strained public-transit infrastructure.
A viral rumor had the Las Vegas Grand Prix becoming a one-and-done casualty of its own maladroitness. Roeben says "there have definitely been heated discussions" between F1 and local government about the problematic race. "My thought is it's been communicated this year's debacle can't happen again, but they'll wait until after the event to show any lack of agreement that this is the best thing that's ever happened in Las Vegas," Roeben remarks, adding that a Clark County Commissioner even said as much on Plaza Hotel CEO Jonathan Jossel's podcast.
"With F1's investment in the Pit Building … it's hard to imagine they'll pull the plug completely, but there's a chance the course would be dramatically altered to avoid the months-long nightmare on the Strip," the Vital Vegas reporter muses. Given that the 2023 race goes through the heart of the Strip and will have occasioned at least seven months of disruption, a reconfiguration of the course seems a likely, face-saving compromise to stave off civic mutiny.
What price scenery?
It's not just the Average Joe who is suffering indignities. A stand of 25-year-old trees planted by Steve Wynn in front of Bellagio was razed to facilitate the erection of Grand Prix grandstands. MGM tried to tap-dance around that PR fiasco, first by dissembling and saying the arbors would return in the near future. When local bloggers showed that the trees had been sawed off at ground level, MGM admitted they'd been ground into mulch. And, given the recurring commitment to F1, no new ones could practicably be planted until 2033. Luckily for MGM, a September 10 cyberattack pushed the arboricide gaffe off newspaper pages.
Similarly, The Mirage (now owned by Hard Rock International) had its frontage shorn of trees for an F1 erection. Ditto a gazebo that had stood for a quarter-century in front of The Venetian. For local residents long inured to Las Vegas' callous amnesia towards its past, this was finally too much—and a symptom of what they saw as the citizenry being sacrificed on the altar of Formula One. For them it's been not so much F1 and as F-U.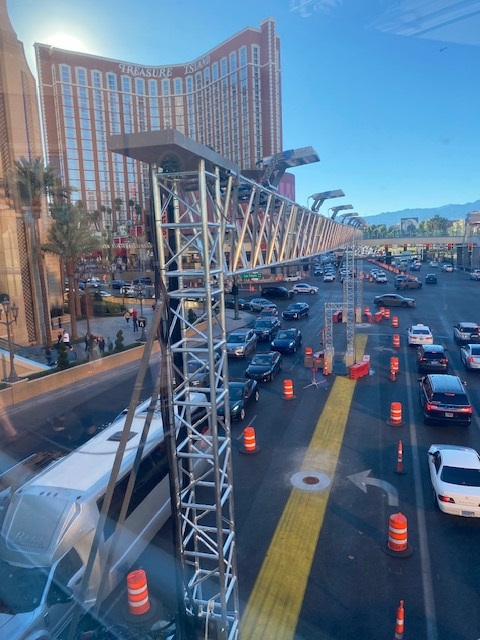 "The trees being chopped down in front of Bellagio were a symbolic fail, a huge PR disaster," says Roeben, whose tweet of the news received 1.5 million views. "Blocking off the Bellagio fountains and Mirage volcano were other terrible decisions. Extorting money from restaurants along the route," in return for less-than-impeded views, "was also awful and papering the glass on pedestrian walkways is another gaffe, seemingly specifically pointed at visitors and locals (if you don't pay, you don't get to enjoy our magnificence)."
Is it worth it?
Some advise Las Vegans to grin and bear it. Said Aguero to a TV reporter, "The only real piece of our visitor business that has not rebounded as much as we would like is the international visitation. I think we are entirely underestimating the important side of that from our economic standpoint." Whether Formula One represents a lasting or even quick fix to that problem remains to be seen.
"It's a great opportunity to showcase your destination to a wide international audience," argues Wesley Lucas, communications director for Visit Austin. "It's a commercial for Vegas. We take a lot of pride in showing off our city and welcoming visitors from all over the world to [Austin] and showcasing our businesses, and our live music venues. Everyone in the community benefits from this race."
Scratch a Las Vegas resident and you're likely to get a heated argument about that. At this point, Wall Street is saying the Las Vegas Grand Prix will generate at least double the revenue of an average mid-November weekend—admittedly one of the slowest periods of the year.
A great deal of money will be made, make no mistake. But when compared to the arguably inflated expectations of event promoters, it's coming down to a question of the glass half-full or half empty. Doing as well as a Super Bowl won't be nearly enough. If the actual economic impact is simply comparable to that in Miami or Austin, the Grand Prix will be viewed as a flop or at best a sucess d'estime. Either way, if you live in Sin City, the glass' flavor is a bitter one.
*** This article was originally published in Casino Life Magazine Issue 161 Volume 19 November 2023***
Formula One racing is so far behind the eight ball with Las Vegans was first seen on Casino Life Magazine